INTRODUCTION
The IMPLAN Development Team works tirelessly to ensure that your experience using the application is as smooth as possible. Once in a while, however, you will see "Oops! Something went wrong" or the dreaded coral colored error bar shows up on your screen.
The first thing we recommend to fix any issues is to clear your cache and then logout and log back into your account. If that doesn't work, here's what all of these error messages mean and how to fix them.
WEB BROWSER
IMPLAN recommends using Google Chrome to get the best experience. IMPLAN also works in Edge, Firefox, and Safari. Internet Explorer is no longer supported.  
OOPS SOMETHING WENT WRONG
It's never good when a frowny face shows up on your screen. The error notes "There could be a misconfiguration in the system or a service outage. We track these errors automatically, but if the problem persists feel free to contact us. Please try again."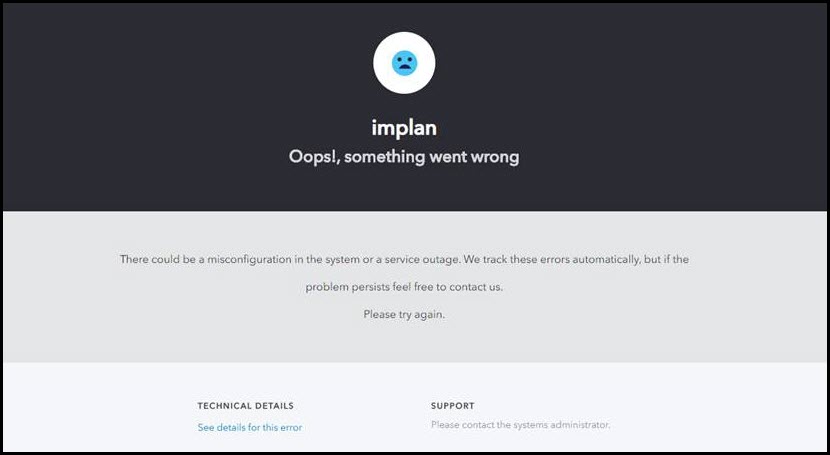 | | |
| --- | --- |
| Cause | Solution |
| Using Internet Explorer | Literally use anything else |
| Using an outdated bookmark to login | Go straight to app.implan.com to login |
| Outage or server disruption | Our Product Team has automatically been alerted and will be working on this fix ASAP |
CORAL ERROR BAR
Sometimes you will see a coral error bar pop up on your screen. Here are the reasons why the error is being triggered.
| | |
| --- | --- |
| Cause | Solution |
| Specification Code cannot be negative or zero. | Choose an appropriate selection in the Specification field and hit Run. |
| Model is not built yet for group X. | IMPLAN is building your Combined Region or Custom Aggregation Scheme; give it a few minutes and try again. You can check to see if a Region is done building by checking for the information icon being available on the Regions screen. |
| Object Progress Event | Take out any special characters you have in your name like #, +, %, etc. |
| This action cannot be completed because one or more Groups has no name. Please name all Groups. | One or more of your Groups on the right side of the screen is missing a name, please add one. |
| Please ensure that all groups have  Region selected from the Regions drop down menu for each group | Ensure that there is a Region name populated in each Group |
BLANK SCREEN
If you navigate to a screen in IMPLAN and you don't see the tables you expect, refresh your screen. If that doesn't work, clear your cache and then logout and log back into your account. 
IF ALL ELSE FAILS
Your Customer Success Manager is here to help! Shoot an email to [email protected] and one of our team members will look into the problem to ensure you can successfully complete your project.
RELATED ARTICLES
https://implan.com/wp-content/uploads/[email protected]
0
0
Joe Demski
https://implan.com/wp-content/uploads/[email protected]
Joe Demski
2020-08-12 11:18:16
2020-08-12 11:18:16
Error Messages & How to Fix Them